SCROLL HALFWAY DOWN THIS ARTICLE FOR CURRENT TSUNAMI TOPIC  (UPDATED TO JANUARY 21, 2020)  —
Here re-published:
*
Matter of Hawai'i mega-tsunami a la Tohoku Japan 2011
From tsunami expert Gerard Fryer to Curtis  10 April 2019 12:41 (pm):
The Hilo evacuation maps were part of the statewide effort that resulted in a new set of maps that were published in 2010. Those were the maps to which Harry added a generous buffer zone. 2011 showed us that the maps needed to be supplemented. Butler basically showed us what a sensible worst case event was, while Gary Chock and friends ran a probabilistic study which essentially came up with the same result but added the information that the expected repeat time of the "Great Aleutian Tsunami" (GAT) was about 2,500 years.
Over the last couple of years the rest of the state has adopted new two-level maps reflecting our revised assessment of hazard. Hawaii County has not. [emphases are Curtis']
I have seen the inundation maps that Prof Cheung's group at Manoa computed. Yes, if we get a GAT then
all of the current evac zone in Hilo will be flooded.
I cannot remember the details, however, and Prof Cheung is reluctant to release the map, since it was intended only for the counties and the final public products are their various evacuation maps. Hawaii County *did* get a copy of Cheung's map for the Big Island, so Harry is aware of the situation. He still insists that the county would be better served leaving things as they are.
From my hazy recollection of Cheung's maps, I think the inland limit of an extreme zone, if one were set up for Hilo, would be somewhere in the vicinity of Kawili St. Is Hilo ill-served by leaving the limit at Leilani St where it now is? That's really for the county to decide. My guess is that Leilani St is near the limit of flooding for an 800-1000-year event, while Kawili St is near the limit for a 2500-year event.
If there is to be an extreme tsunami (i.e, anything threatening to flood inland of the 2010 limit), it would take PTWC [Pacific Tsunami Warning Center] 25 minutes to make that determination (assuming the earthquake occurs today; in a few months they should be able to cut that time down to about 15 minutes). That leaves a little over four hours before the tsunami hits.
So far there is no formal "Extreme Tsunami Warning" product, because it is only this state that uses that language and the weather service (in which the tsunami warning system is embedded) only has watches, warnings, and advisories. Nevertheless, the state and counties, presumably
with the exception of Hawaii County
, will use the words Extreme Tsunami Warning in all their announcements. TV and radio will follow suit. In Hawaii County, there is opportunity for confusion, because you'll hear messages saying that you have to evacuate both the red and the yellow zones,
but Hawaii County doesn't have red and yellow zones.
….[I]f the tsunami is really big and is expected to flood right through the evac zone in Hilo, then PTWC will know that, since the evac zones are marked on the flooding maps which they calculate for every major event. PTWC currently has no protocol for issuing any special warning to Hawaii County for a distant tsunami. I think everyone is hoping that Harry Kim can be convinced to do things like the other counties.
---

From: Gerard Fryer
To: Curtis
Sent: Wednesday, April 10, 2019 10:27 AM
Subject: Re: 1,000 yr. recurrence?

Curtis Narimatsu wrote & Gerard replied 10 April 2019

1.  Do any of Witter's 8 Driftwood Bay & 7 Stardust Bay tsunamis register Mw 9.25+?  Or we just don't know?

Gerard's answer:  We don't know. Until you find the same event at several locations you can't work out the magnitude, since a small event right offshore might generate the same size of tsunami locally as a bigger event from farther away.

2.  Is there an equidistant source tsunami Mw 9.25+ between Driftwood/Stardust Bays which flashlight beams directly toward Hawai'i (Kaua'i etc.)?

Gerard's answer:  Witter's fieldwork was in the vicinity of Unalaska Island. That's pretty close. The worst source location for Hawaii is off Umnak Island, which is the next Aleutian Island to the west.

3. Is it fair to suggest a recurring Mw 9.25+  1,000 yr. tsunami likely from this equidistant spot a la Tohoku?  (1586 Maukawahi sinkhole data)(100% chance of recurrence in the next 500 yrs.)

Gerard's answer:   You never quite reach 100% probability over any time period, regardless of how long it is. Until we can figure out the magnitudes of Witter's events we can't do much better than a very vague probabilistic forecast. I suspect the expected recurrence time for a 9.25+ within the key 1000 km of the Aleutian subduction zone is closer to 2,000 years than to 1,000 years. We just need more information. Once someone can correlate Aleutian to Hawaii observations we'll be in much better shape to answer such questions.

4. Will we know this is gonna be the "big one" in order to evacuate oceanside of today's Walmart Store?   Current evacuation maps are based on the much smaller 1960 tsunami. 

[bold highlights by Curtis]

Gerard's answer:   Our evacuation maps, except for the Big Island, were revised after 2011 showed that you can have a magnitude 9 anywhere along a subduction zone. So now the State of Hawaii has two levels of tsunami evacuation. There is the normal evacuation zone, which is red on the current maps, and the extreme zone, which is yellow. The Walmart store near Ala Moana is in the extreme zone, which extends inland to King Street.

The counties decided to go to two zones because of the number of people involved. A normal evacuation means you're moving 70,000 people statewide. An extreme evacuation means 300,000. With that many people moving the evacuation itself is likely to be hazardous (accidents, etc).

In Hawaii County, things are a little different…  When they received the inundation maps calculated by the scientists and had to convert them to evacuation maps (by moving boundaries to identifiable features like roads to make the whole evacuation process easier), they pushed the inland boundaries significantly farther inland. Because of that additional safety margin, Harry Kim is now reluctant to make any more changes and prefers the simplicity of just dealing with a single zone.
*
Because my family member died in the 1960 tsunami, & other family members narrowly averted death in the 1946 tsunami, I'm interested in tsunamis.
As we see with Tohoku,  1) no one in Japan anticipated such a huge deluge    2) evacuation protocols were useless vs. the enormity of the tsunami.
We get lulled into "Oh, it'll never happen in my lifetime."  Well, no matter the odds, there always is the possibility of a GAT in our lifetime.    Harry Kim's extension farther inland of the evacuation zone falls far short of the safe elevation required.
I live 30 ft. across the street from our Hawai'i County Civil Defense Agency, and every morning when I threw out the trash, I saw Mayor Kim saunter into Talmadge Magno's "man cave" hdqtr. (not Talmadge's fault) during the Fissure 8 lava eruption.    This is the result:
*
Founding father Thomas Jefferson chastened, "The earth belongs to the living."  Meaning, we'd better prepare our progeny for the possibility of a GAT, critically informed of Civil Defense's "cushion" of extending the evac zone farther inland but still way too short of a safe elevation, lest we incur "Tohoku 2" in Hilo.
*
Tsunami expert Gerard Fryer's retort  11 April 2019  1332 (1:32 pm):
Curtis, I donʻt entirely agree with your perspective. Dan Walker, the retired tsunami scientist who still advises Honolulu City & County, said it best. When Roy Price, who was then head of State CD, asked what a worst-case tsunami would be like, Dan said "Worse than you could ever imagine."
Dan made the case that no matter what you are planning for you can always find evidence for something worse (e.g., the tsunamis from giant landslides, which were discovered soon after that exchange).
Obviously, as you consider more and more dire possibilities, the probability that such a thing will happen declines more and more. When someone in emergency management considers such things, they have to think of the full spectrum of hazards, not just tsunamis. While I would love it if Hawaii County embraced the 2,500-year perspective on tsunami hazard (meaning that they establish an extreme evac zone just like the other counties, start a massive outreach campaign, plan evacuation routes, etc., etc., AND commit to keeping the effort going year in and year out), I also recognize that, given finite funding, such an effort may not be appropriate for Hawaii County. There are, after all, other hazards to worry about too, each making its own claim for funds. Indeed, I was surprised how readily Honolulu decided to modify their maps (and drag the rest of the state along), especially given our poor current knowledge of the actual tsunami history. It would be perfectly reasonable for Hawaii County to say, "Hey, if you want us to extend the evacuation area, show us more hard evidence that it is really necessary."
With USGS working in both the Aleutians and Hawaii, that hard evidence will be available soon, perhaps in a couple more years. In the meantime, if Hawaii County goes all out on some great tsunami effort, then twenty years from now Hilo is wiped out by a lava flow, those who pushed the the tsunami effort would feel pretty silly. [not so, we did our best to ensure survivability]
Thereʻs no question that the old 100-year perspective that we used to have for tsunami hazard was inadequate. But by incorporating a generous buffer into the 2010 maps, Hawaii County had already moved to a more conservative position. I don't know what the appropriate figure is, but I would guess that the Big Island maps are tacitly preparing everyone for the 500-year event. Perhaps, until more evidence is available, that's good enough.
-Gerard
*
*
*
*
*
As with Aneyoshi Japan, I estimate the tsunami runup below (Koborinai "canyon") at 120 feet  (Omoe was 60 ft., not 120 ft.)(don't limit yourself to the bare banks– look at the brown trees) —
https://link.springer.com/article/10.1007/s00024-014-0779-x
At Taro-Mukaishinden near Koborinai Fishing Port in Miyako City, a runup height of 37.8 m (I59), the maximum height in our field surveys, was measured on the basis of the upper limit of debris and absence of leaves (Fig. 5).
Three firefighters, who were advising fishermen to evacuate, were killed at an elevation of about 30 m. [where the video is being shot from, atop a 90 ft. perch!!].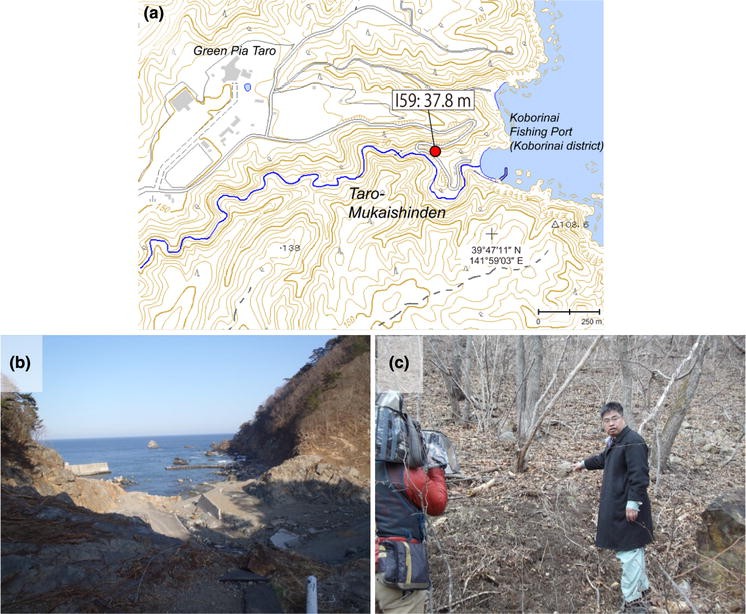 *
END OF JANUARY 21, 2020 SUPPLEMENT
*
*
*
*
*
*
http://www.kitv.com/news/80magnitude-chile-quake-being-evaluated-for-hawaii-threat/25275288
(the 1946 & 1960 earthquakes were measured by the lower Richter scale  — thence the strongest ever earthquake on record, the same 1960 Chile earthquake which killed 61 people in Hawai'i, had a Richter reading of 8.6 but a current moment magnitude of 9.5  — the news report linked above erroneously lists the 1946 earthquake at 8.6 Richter magnitude — it was actually 7.8)
*
*
Slow earthquakes ARE NOT tsunami earthquakes
*
*
*
*
*
*
*
from tsunami expert Gerard Fryer April 5, 2017   —
Aloha Curtis,
The earthquake which spawned the 1946 tsunami displayed exceptionally slow rupture, as Lopez & Okal showed (they calculated that the rupture speed was about one kilometer/second, only about a third of the speed shown by most earthquakes). The slow rupture was accompanied by a huge slip—the distance one side of the fault moved relative to the other. What the actual slip was we don't know for sure, but if you try to model the tsunami that hit Hawaii, you need a slip of at least 30 meters. Why the slow slip? Again, we don't know for sure, but rupture reaching up into shallow, weak, sediments is the likeliest cause. [emphasis is Curtis']
Could one of these tsunamis [tsunami earthquake event] sneak in and hit us unawares? Until about 1990, the answer was probably "Yes." Now, though, I'm confident that we would get the measure of the earthquake in time.
For all earthquakes above about magnitude 6.5, PTWC runs a slowness check which looks at how the energy radiated at short periods compares to that at long periods. Slow earthquakes push out a lot more energy at long periods. This check is only possible because of the worldwide distribution of broadband seismometers: there are at least 700 such instruments all over the Earth and almost everybody shares their data in real time.
All the best,
-Gerard
On Apr 5, 2017, Curtis Narimatsu  wrote:
Hi Gerard:   I ponder Okal's study which overlays "tsunami earthquake" discussions.

Tsunami earthquake

A tsunami earthquake triggers a tsunami of a magnitude that is very much larger than the magnitude of the earthq…

History's Biggest Tsunamis

A sampling of the biggest, most destructive and deadliest tsunamis on record, including the 8.9-magnitude earthq…
*
Did the 1946 Aleutian earthquake have a slip which amplified (via soft clay) the tsunami?
Will a "tsunami earthquake" be our "silent/quiet killer" undetected by current technology?
Thanks, Gerard   — always, Curtis
*
*
*
*
*
*
*
http://onlinelibrary.wiley.com/doi/10.1002/2014GL061232/full
* 
https://www.unavco.org/science/snapshots/human-dimensions/2016/butler.html
*
https://link.springer.com/article/10.1007/s11069-016-2650-0
*
Via a 2,000 year time period, the Aleutian Islands spot (equidistant between the location sources of the 1946 tsunami to the east and the 1957 tsunami to the west) will send a 9.4 moment magnitude generated tsunami straight ahead to the Hawaiian Islands with 105 ft. high runups (from sea level to the highest point on land) which will cause utter devastation to all low-lying areas.   Such a tsunami is overdue inasmuch the center spot has not had such a humongous event over the past 2,000 years.   Mayor Harry Kim foolishly discards the risk of the overdue event.   After what science discovered via the 2011 Japan tsunami, it is criminal to overlook such an apocalyptic event.    The evacuation areas in Hilo include clearing everyone oceanside of our Prince Kuhio Plaza, as a conservative measure.
*
Fig. 10
Hilo Harbor—which experienced great tsunami disasters in the twentieth century—is shown in relation to the Hawaiian Islands. The tsunami evacuation zone based on historic tsunamis (cream textured, ca. 2010) is dwarfed by a great Aleutian tsunami (colored zone, amplitudes noted in meters) that extends >2-km inland.
*
*
*
https://www.youtube.com/watch?v=09xQ8n6GiTY
*
*
2018 marks the 50th anniversary of the song Abraham, Martin, and John  (in praise of our fallen peers/forebearers).  All respect to our fallen ones   —
*
*
*
the 2011 Japan tsunami at Soma port was twice as high as the deadly waves which hit Hawai'i in 1946 & 1960, not to mention that the seashore sank 3 feet along Japan's northeast coast (thereby rendering useless  all anti-tsunami seawalls except for Fudai's 50 ft. high barrier  — https://www.youtube.com/watch?v=XhxlBGzNyzk  )    —     while all of Honshu moved 8 feet eastward.   
*
*
*
*
all 5  employees at the Soma port office miraculously survived   — go to timeclock 13:13 here
*
*
*
*
Japan's "giant" mega-thrust earthquake generated tsunamis    —   the interval is one such tsunami every one thousand years  —
*
(6 mega-thrust tsunami events 1,000 years apart between 6,000 B.C. & 100 A.D., then the 869 A.D. Jogan Sanriku tsunami, then the 2011 A.D. Tohoku tsunami   —
*
*
*
2011 megathrust tsunami predicter Yasutaka Ikeda   was ignored     —
*
*
*
*
*
*
*
supercritical wave flow focus (even reinforced concrete is destroyed by large lateral force of water)    go to timeclock 29:30  (Kuji port)  —
 *
*
lateral force hazard generally   — timeclock :46 (Onagawa city)   —
*
*
*
*
*
*
*
*
*
*
http://www.sciencedaily.com/releases/2011/12/111205181924.htm   (underwater topography/bathymetry can amplify wave pulse energy)
*
*
*
*
"Slow" quakes (not tsunami earthquakes) might correlate with  eventual huge earthquakes  —
*
*
*
*
*
*
*
*
*
*
timeclock 14:58 to 18:44 (asperity means rough stuck area)    —
*
*
*
timeclock 16:19 to  17:25  —
*
*
*
http://onlinelibrary.wiley.com/doi/10.1002/2015GL063959/full
*
*
*
*
*
*
Rise, then withdrawal/drawback, of coastal waters in the Hawaiian Islands from subduction earthquakes (Pacific Rim local coastal plate e.g. Aleutian Islands/Japan  — snaps up/forward over "diving" Pacific Plate) — expert Gerard Fryer's description   —
*
January 30, 2018
To Curtis,
A subduction earthquake, regardless its magnitude, causes uplift offshore  and depression near shore. That means on the local coast the first thing you'll see (e.g., Japan in 2011) is a withdrawal. On the ocean side of the earthquake (e.g., Hawaii in 2011) the first thing you should see, because you're on the uplifted side, is a rise in sea level.
Indeed, in Hawaii in 2011, the first thing we saw on tide gauges *was* a rise in sea level. The initial rise, however, was not as pronounced as the following depression, and the next wave was larger than the first, so to someone on the beach it's possible that the first thing you were aware of was a withdrawal.
*
This is a pretty crummy description of what happens   —
Whether inundation or drawback occur first is determined by how the tsunami is generated. Magnitude 8 earthquakes cause uplift of the sea floor and then subsidence (down) of the seafloor. Subsidence causes drawback and uplift will cause inundation.   http://www.sms-tsunami-warning.com/pages/tsunami-drawback#.WnI-MGczUdV
*
*
*
*
*
*
*
*
*
http://www.ft.com/cms/s/0/9e502e56-5970-11e4-9546-00144feab7de.html
http://www.cam.ac.uk/research/news/scientists-explain-scale-of-japanese-tsunami   (issue of underwater "landslides")
*
http://www.thestar.com/news/world/2012/05/30/japan_earthquake_and_tsunami_disturbed_upper_atmosphere_nasa.html  (do animals sense oncoming earthquake/tsunami?)
*
*
*
*
go to timeclock 12:05 to see "tennis court vertical netting"   — then continue 2 seconds later to  timeclock  12:07  to view the virtual bone-chilling "lake"  —
*
http://www.youtube.com/watch?v=ARv_4a_8FBA
*
*
*
*
*
*
*
*
*
*
http://www.foxnews.com/us/2014/04/02/tsunami-advisory-for-hawaii-cancelled-after-large-earthquake-off-coast-northern/
*
*
*
*
*
*
Miyako city in Iwate Japan   —
*
*
*
includes post-tsunami photo at bottom  —
*
http://www.bing.com/images/search?q=miyako+iwate+tsunami+map&qpvt=miyako+iwate+tsunami+map&FORM=IGRE#view=detail&id=9CF3E71683AD15F2C29535EFDF20C5D3C093BAD6&selectedIndex=35
*
*
*
*
*
*
*
*
epicenter 30 miles east of Ishinomaki in Miyagi prefecture —
*
*
*
*
*
*
*
Koshirahama port in Toni, Kamaishi, Japan
*
*
go to video below to timeclock 2:33 to see van & flatbed truck by "tunnel" carport  —  50 ft. above usual sea level at 5:40 (but seashore sank by 3 feet, thus amplifying the inundation)  —
*
eventually be met by inundation (go to 5:58 to see 37.5 ft. high seawall blocks toppled back by tsunami "pulse")
*
*
*
*
*
same Koshirahama port post-tsunami failure of seawall blocks — hollow insides (to allow vehicles to pass thru)
*
*
*
*
*
*
*
*
*
http://glgarcs.net/intro/subduction.html
*
*
*
*
*
*
http://www.livescience.com/41726-japan-earthquake-culprit-slippery-clay.html
*
fault
The Tohoku quake was a magnitude 9.0, but it was like no subduction quake ever seen before. Before the 2011 earthquake, scientists thought subduction zones concentrated their energy deeply, where rocks are strong and plates can stick together between quakes. (Faults store energy between earthquakes kind of like springs, slowly squeezing until the boundary unleashes and everything rips apart.)
*
But the Tohoku temblor was a surprise — the shallow part of the fault shifted twice as much as the deeper part.
*
These soft, muddy rocks were expected to be too weak to store energy between earthquakes.
*
The clay, which resists slipping no better than a banana peel, lines the shallow part of the massive plate boundary fault offshore of Japan, where the
*
seafloor jumped eastward by a staggering 165 feet (50 meters) on March 11, 2011.
*
The enormous surge gave the ocean a giant slap, generating the destructive tsunami that killed more than 15,000 people.
*
*
go to timeclock 1:00 to visualize largest ever recorded 50 meter jump   —
*
*
*
*
*
*
*
http://www.upi.com/Science_News/2013/12/05/Slippery-layer-of-clay-increased-force-of-tsunami-in-2011-Japan-quake/UPI-13471386288421/
*
Because of the lubricating effect of the clay sediment, the earthquake created a "slip" of about 150 feet, "which in earthquake terms is among the largest ever measured, and it was unexpected by many earthquake scientists that the fault ruptured all the way up to the seafloor.
*
*
*
*
*
*
*
How the great Tohoku-Sendai earthquake and tsunami happened
Slippery Clay Explains Mystery of Tohoku-Oki Earthquake and Tsunami
*
The destructive nature of the Tohoku eathquake stemmed from its occurrence at a shallow depth (~20-30 km) that allowed the motion to shove crustal material eastwards, up and over the sea floor to cause the sea floor to bulge upwards by tens of metres in a matter of seconds. It was that surface-breaking megathrust that displaced Pacific Ocean water and launched the huge tsunami waves. Geophysicists were caught by surprise as regards the magnitude of the event, having long considered that part of the Pacific 'ring of fire' to be incapable of generating seismic energies above a magnitude of 8.0; 32 times less energetic than the magnitude 9.0 that was reached in reality. The area to watch was believed to be the southwestern coastline of Japan, affected by subduction beneath the Sagami and Suguma Troughs. The reason for this attempt at anticipation in what is one of the world's most risky places for seismicity is that now discarded theory suggested that subduction slip was greatest at depth and becomes smaller at shallower levels.
Clearly, a major scientific effort had to be undertaken to explain such a disastrous misconception. Part of this involved drilling into the seabed above the 11 March 2011 epicentre. The extracted rock cores revealed a major surprise (Chester, F.M. and 14 others. 2013. Structure and composition of the plate-boundary slip for the 2011 Tohoku-Oki earthquake. Science, v. 342, p. 1208-1211): the fault zone was a layer of clayey rock less than 5 m thick with a rupture zone for the Tohoku earthquake estimated at only a few centimetres across. Experiments revealed that hardly any heat had been generated by such a huge earthquake (Fulton, P.M. and 9 others 2013. Low coseismic friction on the Tohoku-Oki Fault determined from temperature measurements. Science, v. 342, p. 1214-1217). Friction had been extremely low, probably because the clay was so impermeable that water pressure in it was able to build up and not diffuse away (Ujie, K. and 9 others 2013. Low coseismic shear stress on the Tohoku-Oki Megathrust determined from laboratory experiments. Science, v. 342, p. 1211-12145). The thrust fault was lubricated, but fortunately one that was localized: unlike the strike-slip fault that drove the Indian Ocean tsunamis of 2005 which was able to propagate for over 1000 km (twice as long as the Tohoku fault).
*
It does seem that the Tohoku Fault has developed, probably over millions of years, in particularly clay-rich sea-floor sediments. Such a phenomenal amount of slippage would be less likely in coarser shallow sediments that would probably generate much more friction (less slippage). Putting the findings into practice will involve greater investment in and speeding up oceanographic studies of submarine trench systems.
*
*
http://www.huffingtonpost.com/2015/02/20/tectonic-plates-move_n_6713638.html?utm_hp_ref=science
*
http://www.livescience.com/39110-japan-2011-earthquake-tsunami-facts.html
*
*
*
*
*
*
*
*
The 2011 Japan tsunami truly was of biblical proportion  —
*
*
*
*
*
Go to timeclock 5:15 below to see 2 persons perched atop moored ship viewing "Niagara Falls" 35 ft. high seawall (15 ft. higher than at Daichi nuclear power plant) being "flooded" over at Hachinohe harbor, northern Japan.   Then go to timeclock 10:09 to see the enormity of the "flooding/deluge."  Experience the "agitation cycle" of a gigantic washing machine at timeclock 3:36.   —-
*
*
zoom in to this moored ship above in the photo below   —
*
*
*
*
*
*
sights/sounds of folks watching tsunami   –
*
*
*
*
Named cities/sites in this 2011 Japan tsunami video  —
*
*
*
*
*
*
July 11, 2014 earthquake same tectonic plate general location Japan   –
*
*
*
*
*
Tarou Japan's "model" (perfect) tsunami seawalls were no match for the 2011 tsunami.
*
go to timeclock :56 to see seawall "x" configuation
*
then go to timeclock 5:18 of this next video to see the upper right quadrant site of the x configuration in real time     http://www.youtube.com/watch?v=R30VfYgfYek&list=PLLzwDwNidw09lKAwyeLN5FXxYodMKxRfL&index=10
*
*
*
*
*
*
Onagawa cement green-topped bldg. at timeclock  :56  (seconds)   to right of screen is not the one you see in videos below
(Onagawa especially is vulnerable to tsunamis because of its funnel-shaped bay & underwater bathymetry — bay shape & undersea floor layout that funnel & amplify  tsunami pulse)
*
here is different green-topped bldg. at timeclock 1:35:56  (also go to 1:35:22 to see 65 feet inundation measurement)  —
*
different green-topped bldg.  timeclock 1:35     http://www.youtube.com/watch?v=i-5cJseEsmc
*
climbing stairs to Onagawa hospital      http://www.youtube.com/watch?v=84lSkbczBns
*
see also green bldg. & peach-colored bldg. video #156 (Yuichi Tuba) at timeclock   6:07 & at 8:08 here  —  tsunami went up  65 feet along earthen bank of hospital from where this current video is made
*
*
*
Onagawa port land sunk  5 feet into the sea       http://www.youtube.com/watch?v=ZhPOZ78V8go&list=PL8rWKwqFW1l02yG1PE0YpyLmdwr6YZfmL&index=62
*
*
*
Onagawa & Kesennuma also were affected by the February 28, 2010 Chile tsunami  — because of both cities' funnel shaped bays which amplified the tsunami pulse, & because of their underwater bathymetry (seafloor shape) which also amplified the tsunami pulse.
*
*
*
*
*
*
*
*
*
*
Go to timeclock 1:06 of this video to see 2 hilltops in background with town in foreground.   Then go to 8:10 to see a "lake" where the town stood  — tsunami inundation 2011 Japan tsunami.       http://www.youtube.com/watch?v=XXxktSfVvSQ
*
*
*
*
*
at time clock 23 seconds —   these 3 people cannot outrun the tsunami coming across the flat plain over  a mile inland   (Soma area) —
*
*
at time clock 1:24 — the fleeing person gets swallowed in the flood of the onrushing tsunami (at Omoe, Iwate, Japan)  —
*
*
*
*
Rikuzentakata destruction
*
go to timeclock :51 (seconds) to see municipal government bldg. (roof is equivalent to 4th floor)  &  3 story citizen "city" hall at 1:28 that was swallowed up in tsunami    — http://www.youtube.com/watch?v=Wccusd-5rg8
*
see also citizen "city" hall at 12:40 here     http://www.youtube.com/watch?v=j-ElOypQOH8
*
these individuals perched atop the corrugated pitched roof adjacent to the "city" hall presumably perished, inasmuch the bldg. & roof eventually were ripped away by the tsunami  —  go to timeclock 3:43         (go to hothot yochi uploader name on You Tube — look for video with devastated city landscape)       http://www.youtube.com/watch?v=naLHeN1azEk    (removed from You Tube)
*
*
now see survivors on municipal government building  rooftop  during tsunami  (equivalent to 4th floor)      timeclock 2:21    http://www.youtube.com/watch?v=n5iXBaLM7mI
*
here is 3 story citizen "city" hall after tsunami timeclock 6:07 video no.  11
*
*
Rizkuzentakata incoming tsunami from 5th floor level of building   timeclock 12:16
*
and timeclock 3:05 here       http://www.youtube.com/watch?v=lWrQkR6KUNM
*
same "lanai"  post-tsunami video #151 timeclock 5:03
*
*
*
*
*
Minamisanriku survivors incl. its mayor  — perched atop city gov't bldg. 45 ft. above street level at timeclock 13:02        https://www.youtube.com/watch?v=tU1dLutdRAM
*
*
*
*
an elementary school tragedy because of school officials' hubris miscalculation    —
Okawa Elementary School Ishinomaki Japan   (tsunami came from ocean 2 miles away to the right side of the bridge  — school officials had ample time to take the students to the hill to the rear of the school)
*
here is the green-colored iron trestle bridge which is to the left of and higher in elevation than Okawa Elementary School  —
*
here is the same bridge  —
*
leading up to the green bridge from the left side landfall of the bridge —
*
also, here is aerial photo pre-tsunami of area to the left of the bridge  timeclock 58 seconds
*
Okawa Elementary School before its destruction   —
*
*
*
*
*
*
*
*
*
*
*
*
*
*
*
*
*
Regarding Hawai'i Island volcanology (not related to any tsunami)   —
*
January 31, 2018
To Frank Trusdell
US Geological Survey (Hawaiian Volcano Observatory)
from Curtis
Hi Frank:  In one of your USGS Hawai'i Trib articles, you described an old Mauna Loa lava flow  approx. where today's Hilo police station is off Kapiolani St.  Current construction excavation on the mauka side of Kapiolani St. about 300 ft. south of the police station public parking lot reveals est. 4 ft. of dirt on top of rock.  I don't know if this site is part of the old lava flow.  Aerial photos est. 60 yrs. ago show a greenbelt from Imaizumi Dairy (where today's Pacific Heights condos are off Kumukoa St. up to today's Komohana St.) all the way down to Kilauea Ave. approx. where New China restaurant is.  A stream ran down the Imaizumi Dairy area across/under  today's Popolo St. extension.
Why was the old lava flow not covered by later flows?   Topography "anomaly?"  Your assistance will be very much appreciated.  Thanks in advance for your mana'o (wisdom).
*
Curtis,
We call the flow, at the location you mention, the Kinoole Street flow.
It is ~8600 yrs old (its been dated).  And it is not surprising that it has
that much soil.
The drainages we see now almost certainly are not the same as before
due to flood control projects and consolidation of drainages.
Why not covered?  Hilo is far from the rift.  It is slightly higher standing
ground.  But close by are the 1880-81 lava flow and another prehistoric
flow dated at ~1300 yrs.  The toe of the 1880 flow crosses Mohouli and
is pointed toward the Kinoole Street flow (floral hobbyist Otake's property
at junction of  Mohouli & Popolo Sts.)
See here for a PDF version of our geologic map of Hilo:
Trusdell, F. A. & Lockwood, J. P. (2017).
U.S. Geological Survey Scientific Investigations Map , 2932-A,
pamphlet 25 p., 2 sheets. doi:10.3133/sim2932A
Frank
++++++++++++++++++++++++++
Frank Trusdell
US Geological Survey–HVO
*